Each wire crate comes complete with a dual latching door to safely secure pets
Folds for effortless storage or travel
Includes a slide-out floor tray and a removable divider panel
Easy Crates are available in a range of sizes from small to large. Assembly instructions included.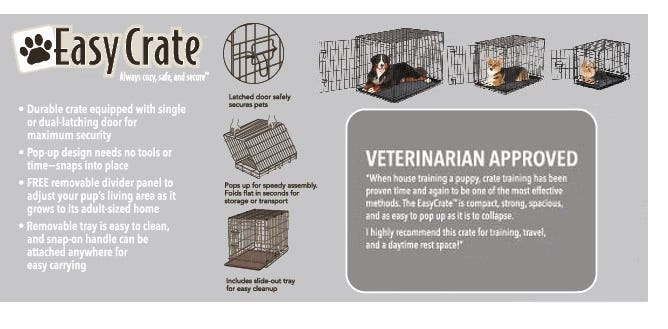 Material
: Lightweight wire crate
Size
:
Small Crate measures 24"L x 17"W x 20"H
Medium Crate measures 30"L x 19"W x 22"H
Medium/Large Crate measures 36"L x 22 1/2"W x 25"H
Large Crate measures 42"L x 28"W x 31"H
Care: Wipe clean with a damp cloth
Note: All sizes come with a dual latching door

Sizing Guide: Measure dog's height to the shoulders, and length from chest to rear of leg, then add 4"-6" to each measurement. See below for estimations by breed. For approximation only.

Small: Beagle, Boston Terrier, Cocker Spaniel, Pug
Medium: Basset Hound, Bulldog, Keeshond, Norwegian Elkhound, Dalmatian
Medium-Large: Boxer, Standard Poodle, Golden Retriever, Labrador
Large: Afghan, Doberman, German Shepherd, Irish Setter, Rottweiler, Collie